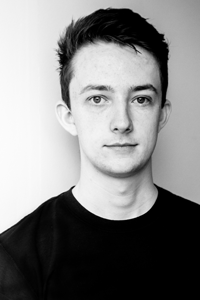 Calum Robshaw is an Actor-Musician based in London.
A recent graduate of East 15 Acting School studying on the Cert HE One Year Course. Calum then went on to travel to Italy where he studied Commedia del Arte with one of the world's leading practitioners in Physical Comedy: Antonio Fava  .He has recently finished a 6 month Theatre in Education Tour of Italy, where he performed educational plays and facilitated English workshops to the children of Italy. This tour allowed him to perform in cities such as Rome, Milan, Verona and the Island of Capri.
Calum's most recent work is with "HookHitch" Theatre Company at this year's Edinburgh Fringe Festival. Calum peformed in "Phantasmagoria", an immersive re imagining of Lewis Carroll's chilling Ghost Story and "My Friend Peter", a Folk Musical about the life of Beatrix Potter. Both shows went on to receive numerous 4 Star Reviews and critical acclaim.
Calum has recently completed training again with Fourth Monkey Theatre Company on the "Year of the Monkey Course". He will soon be performing with them at this year's Edinburgh Fringe in "The Ark" and "Sodom".
Calum is represented by ABA Management.